The countdown to South Africa continues as the final design of the official 2010 FIFA World Cup ticket was unveiled on April 9 at a press conference in Soweto, South Africa.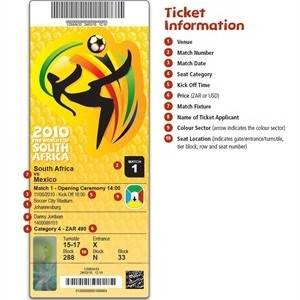 According to FIFA's website, a total of 2.2 million tickets have been sold for the tournament. Of these tickets, 925 437 have been obtained by South Africans, 118,945 by the United States of America, 67,654 by the United Kingdom, 32, 269 by Germany, 29, 657 by Australia and 16,001 by Canada.
For those anticipating tickets, Pretoria News gave a detailed overview of exactly what what you will find on each ticket:
Venue – The name of the stadium where the match is being played and the name of the city.
Match Number – indicating for which match the ticket has been bought for.
Match Date – indicating the date on which the match will be played.
Seat Category and location – this indicates the gate to be used as an entrance, the tier block, row and seat number.
Kick Off Time – the time the match is set down to begin.
Price (ZAR or USD).
Match Fixture – indicates which teams are playing.
Name of Ticket Applicant – the name of the person attending the match.
Colour Sector (arrow indicates the colour sector).
Seat Location (indicates gate/entrance/turnstile, tier block, row and seat number).
Barcode.
security hologram.